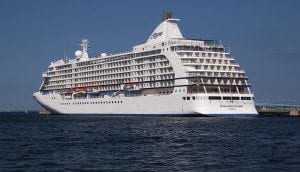 Cruise lines are upping their game when it comes to technology. Soon, cruisers will be able to spend money with only a wearable device. These devices will allow passengers to be easily tracked and offer "additional conveniences." Why do airlines make you fly while ill? And, a look at the differences between women's and men's bathrooms in office buildings, and more.
Cruise line technology is used to add the personal touch
The companies are adding apps to speed boarding and wearable medallions that serve as passenger IDs, charge cards and location beacons.
Many ships now offer a mobile app to help guests pay for purchases, learn about daily activities, make special requests and communicate with other members of their travel party. Some, like Carnival Corporation, Disney Cruise Line, Royal Caribbean Cruises and the Geneva-based cruise company MSC, are beginning to pair them with wearable devices that can better track the passenger's exact location on the ship and offer additional conveniences. Andy Stuart, brand president of Norwegian Cruise Line, said it introduced a new version of its app for passengers fleetwide in January, and will roll out its first wearable device next fall.

The technology trend coincides with a period of growth in the industry. About 27 million people took a cruise in 2018, up from 20.5 million in 2013, according to Monty Mathisen, managing editor of Cruise Industry News.
Should you fly when you are unwell?
Airlines have forced many passengers to fly while ill. Their exorbitant change fees and cancellation fees make even the very sick fly when they shouldn't. When I had pneumonia with a chest x-ray to prove it, an American airline forced me to fly rather than stay in Madrid for two or three extra days to get better. This is not right for other passengers or the currently sick ones.
Flying with a cold is not likely to pose a huge risk to either you or the airline. Yet, there are more serious medical conditions which can be aggravated by air travel and indeed can be significantly worsened during a flight – for example, the cabin pressure effects on a person suffering from a sinus infection can exacerbate symptoms and prolong recovery time.

Airlines can and do refuse travel to passengers they suspect may be contagious…

Whilst it is tempting to travel regardless and avoid losing money on your flights, with a sufficient health and travel insurance policy in place, you may be able to claim in the event of an unforeseen situation which results in you being unable to fly.
The long lines for women's bathrooms could be eliminated. Why haven't they been?
Many women have spent much more time in the lavatory lines than men. That is because it takes women longer. For years women have faced discrimination that can be solved with the stroke of a pen. Why hasn't it happened?
In the three decades since, dozens of cities and states have joined the cause of "potty parity," the somewhat trivializing nickname for the goal of giving men and women equal access to public toilets. These legislative efforts, along with changes to plumbing codes that altered the ratio of men's to women's toilets, have certainly helped imbalances in wait times, but they haven't come close to resolving them.

"It still remains a huge problem today, overall," says Kathryn Anthony, an architecture professor at the University of Illinois who has studied the issue for more than a decade. The issue persists for many reasons: the exigencies of real estate, the building codes that govern construction, and, of course, sexism.
Charlie Leocha is the President of Travelers United. He has been working in Washington, DC, for the past ten years with Congress, the Department of Transportation and industry stakeholders on travel issues. He was the consumer representative to the Advisory Committee for Aviation Consumer Protections appointed by the Secretary of Transportation from 2012 through 2018. He also served on the Consumer Advocacy Subcommittee of the Transportation Security Advisory Board.