Today, my rented apartment in the Jean Médecin district is a cage. French police and military patrol the streets. My three teenage kids and I are only allowed out of the house for an hour a day. Curfew starts at 8 p.m.
How did we end up here? That's a question I ask almost every morning while I'm pacing my cell.
A final trip as a family becomes a grand adventure
This was supposed to be our last trip as a family before my oldest son left for graduate school. I had planned a year-long adventure to show the kids the Europe I grew up in. We planned hiking in the Alps, seeing the Colosseum in Rome, and eating a krapfen at my favorite Kaffeehaus in Vienna. I could keep writing and since my kids are home-schooled, they could continue their education while we were abroad.
And for the first two months in Lisbon and Porto, it worked. But then, on the train from Barcelona to Marseille, we learned that Italy had closed. I made a snap decision to reroute to the Côte d'Azur and rented an apartment on Vrbo for the rest of the month.
When we arrived in Nice, museums, restaurants, and bars closed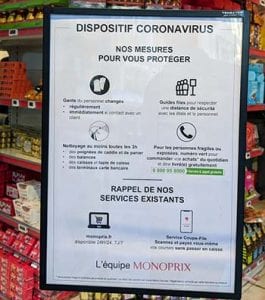 In Nice, the museums closed shortly after we checked in. The next week, bars and restaurants shut down. Then the mayor tested positive for COVID-19. And within a few days, the city went from a vibrant Mediterranean tourist destination to a police state.
France is one of Europe's coronavirus hot spots, with more than 159,000 cases. You can't leave your apartment without an attestation — a signed form that states you are buying groceries, exercising or going to work. You can print the form, write the information on a piece of paper or create an electronic document on your phone. If authorities catch you more than a kilometer away from your residence when you're out walking, you're looking at a fine of between 38 and 135 euros, or about $41-$146 in U.S. dollars
"There are worse places to be stuck," a friend texted me after we arrived.
Well, that depends on your circumstances. I'm in an apartment with three teenagers. The boys (ages 15 and 17) are taking online classes at the University of Arizona. They're also learning several languages, including Portuguese, Spanish, French, and Japanese. My daughter, 13, is in ninth grade and works with an online tutor four days a week. When we talk, it's about what we'll do after this ends. Should we return to the States? Or stay in Europe as planned, finishing our journey?
The best part about being trapped in an apartment with adolescents is that you never run out of food. They're constantly at the nearby Monoprix supermarket replenishing our supply of cereal, fruit and fresh baguettes. Teenagers are like hummingbirds, eating twice their weight in a day. That's only a slight exaggeration.
The worst part? No, it's not the eye rolls and the "Dad, you just don't get it," responses to every other question. The worst part is not knowing whether their in-ear headsets are on. To find out, just ask them a question. Silence means the headsets are blasting music or language lessons.
The kids aren't afraid of getting caught outside. Their paperwork is always in order and they quickly adjusted to the strict social distancing rules. Also, their French is much better than mine.
Avoiding police checkpoints is a French pastime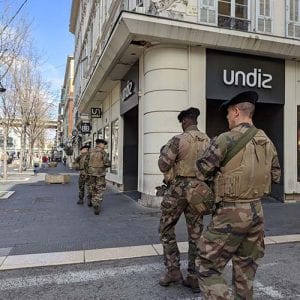 Come to think of it, no one seems overly worried about the police. That's because this confinement isn't just uniquely French, but southern French. Every day while I'm on my government-sanctioned walk, I see the police in the same places: near the main thoroughfare along the beach, the Promenade des Anglais; on the main shopping district at Avenue Jean Médecin; and in the town squares. Avoiding a checkpoint is easy, and the police make little effort to enter the narrow streets of my neighborhood to find scofflaws who resist the lockdown.
In the early days of confinement, the streets looked unnaturally empty, like those in a Warner Bros. studio tour. People took the threat of a pandemic as seriously as anywhere else. But it didn't stay that way for long. A nonessential chocolate shop defied the lockdown last week. Yesterday, I walked past a bar that had opened its door a crack. Inside, I could see people enjoying a beer. Although authorities barricaded the beach, that hasn't stopped some residents from crossing the line. I watched one woman duck under the tape and stroll along the water's edge as pedestrians on the other side of the road nodded approvingly.
---
READ ALSO ON THE TRAVELERS UNITED BLOG
When we stop travel, can we start it up again?
Learn the facts about lockdowns worldwide
---
This is a Nice lockdown — low-keyed, beautiful gardens, and a blue sea
My attestation allows me just one hour outside. I wish I had more. Springtime in Nice is an event you should savor at least once in your lifetime. A Mediterranean breeze carries the heavy scent of orange blossoms through the city. The overgrown gardens have delivered a tide of purple and red flowers. You hear them before you see them, thanks to a deep buzzing of insects feasting undisturbed on nectar.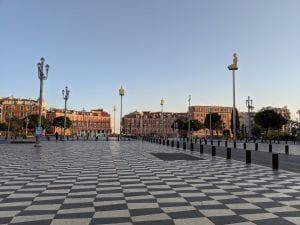 The people I meet fall into two categories: masked and maskless. Those with masks move quickly, often crossing the street to avoid me. The non-mask-wearers stop to talk to each other and don't seem to care if you get too close. Most of the maskless Niçois are elderly or homeless, but I also see young people sans protection. Last week, I watched two men shaking hands in public. In a world obsessed with social distancing, that's the ultimate sign of defiance.
The U.S. Embassy in Paris emails me every few days, warning me that I should be prepared to remain abroad for an "indefinite" period. But for how long? The French president announced France's lockdown would end on May 11. My lease runs out a few days before then. Should we stay in Nice and wait until the "all clear?" If we press on, do we go to Italy or double back to England, which is more familiar but further behind on its COVID-19 recovery?
Or do we come home? That's tempting, except that I sold almost everything I owned — including my car and house — before embarking on this odyssey. If we returned, we'd have to start over. I'm not even sure where we'd go.
I have to admit it is a Nice prison
For now, there's a daily and predictable routine of 23 hours in an apartment. There are walks down abandoned, orange-blossom scented avenues, trips to the boulangerie and supermarché, and more conversations with the children about our uncertain future. I hope when this is over, they will return here to see the France that I remember — not to this beautiful prison.
All photos by Christopher Elliott. Previously published in the Washington Post.