---
A historic look at the Mount Vernon Christmas of yore
---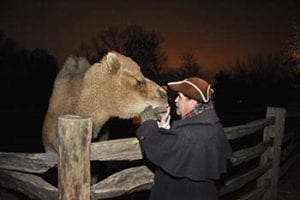 This holiday season George Washington's Mount Vernon home will offer special extended Christmas season events from November 24th through the Epiphany on January 6th.
Themed decorations, historical chocolate-making demonstrations, 18th-century dancing, and even a Mount Vernon Christmas camel just like George Washington had on the grounds during Christmas of 1787 add to the historic atmosphere.
The popular tradition continues of inviting visitors to meet the charming "Mrs. Washington." Schedules may vary for dancing and "Mrs. Washington." Activities are  included with regular admission.
• Festive Christmas trees grace Mount Vernon's Ford Orientation Center and the Donald W. Reynolds Museum & Education Center. Ranging in heights of up to 12 feet tall, the professionally decorated trees have themes relating to Mount Vernon, George Washington and the 18th century.
• Fireworks light up the sky over the Potomac River on December 15 and 16, 2017, from 5:30 to 9 p.m.
• Traditional boughs of hand-cut greenery adorn doorways in the Mansion, which are staged with an elaborate course in the "New Room." The Mansion's rooms have been changed from their normal appearance to reflect the home preparing for overnight guests. Martha Washington's "Great Cake" has center stage, and visitors may take home her original recipe calling for 40 eggs and a version that has been adapted for modern ovens – and appetites!
• Mount Vernon Christmas tours take place by the soft glow of candlelight from 5-8 p.m. on November 24 – 25,  December 1 – 2, December 8 – 9, and December 17.
• Over 100 poinsettias grace hallways and other paths walked by visitors.
• The Shops at Mount Vernon include a large Christmas section, with dozens of ornaments, Byers' Choice Carolers – including George and Martha Washington! – snow globes, and wooden advent calendars.

Back in the day, Christmas was primarily a religious event. "It was also, however, a festive occasion marked by visits between friends and relatives, celebratory parties, and public assemblies. As described by George Washington's correspondence, diaries and cash accounts, Christmas at Mount Vernon followed a typical pattern for the region and time period."

Religion played a significant part in the observance of the holiday at Mount Vernon, as the Washingtons frequently attended church on Christmas day. In 1770, for example, Christmas fell on a Tuesday. After going to nearby Pohick Church in the morning, the family returned to Mount Vernon for dinner. Similar patterns were followed in 1771 and 1772, when December 25 fell on a Wednesday and Friday.

The Washingtons preferred to spend the holiday with family and friends, and George and Martha frequently had guests over at Mount Vernon to celebrate Christmas. While at Mount Vernon, guests were encouraged to make themselves at home and take part in typical seasonal activities. Hunting and foxhunting, for example, were particularly favored activities. Twice in 1768 and three times in both 1771 and 1773, George Washington went hunting with visiting friends between Christmas and Twelfth Night.
This mansion has become one of my favorite destinations. And as I learn more about our nation's first President, his home and plantation take on even more significance.
The Donald W. Reynolds Museum and Education Center has added a dramatic new educational element to the experience. The display rooms are actually underground beneath the grassy field seen through the Ford Orientation Center's sweeping floor-to-ceiling windows.
The "museum" portion is a traditional display of artifacts associated with life at Mount Vernon, the Revolutionary War and the presidency. Space is set aside for special exhibitions — slavery at Mount Vernon has been an ongoing display.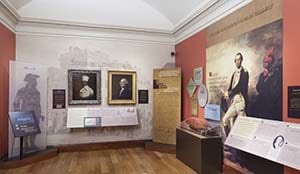 The "Education Center" is the heart and soul of this building. Original videos, innovative theaters, interactive rooms for children, maps and wax models recreate Washington's exceptional life. Plan at least an hour or more in this center — the videos telling Washington's life are exceptional. Early-morning fog rolls across the theater screen, your seats shake as cannons roar and snow falls as Washington leads the Continental Army across the Delaware on Christmas Eve, sending shivers down your spine.
In an attempt to visualize George Washington, forensic scientists and computer imaging specialists analyzed paintings, sculptures, dentures and clothing of our first President. This data was combined with aging programming to create accurate figures of Washington as a 19-year-old man surveying land, a 45-year-old General astride his white horse and a 57-year-old President being sworn into office.
During the Mount Vernon Christmas, when Americans across the country give thanks for blessings received during the year and exchange gifts, Mount Vernon, decked with decorated trees, holly and evergreen boughs, reminds us of one of America's earliest blessings and a true national gift — an extraordinary first President.
Photos courtesy Mount Vernon.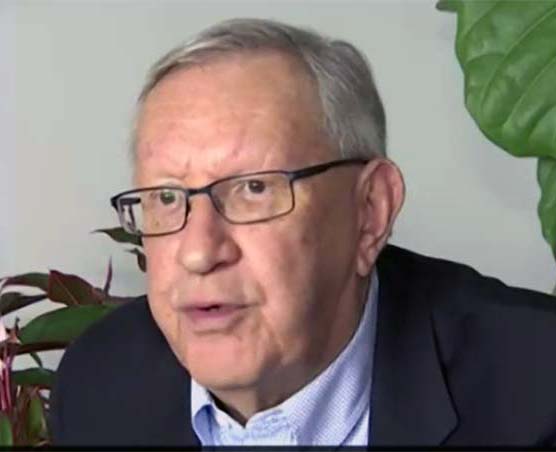 Charlie Leocha is the President of Travelers United. He has been working in Washington, DC, for the past 12 years with Congress, the Department of Transportation, and industry stakeholders on travel issues. He was the first consumer representative to the Advisory Committee for Aviation Consumer Protections appointed by the Secretary of Transportation from 2012 through 2018.