---
Airline rules make a big difference when faced with holiday delays
---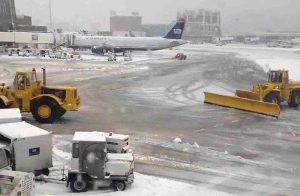 On the week before Christmas, a fellow train travel aficionado and I journeyed to eastern Canada to ride a special run of the Ocean train between Montreal and Halifax using 1950s-vintage streamliner cars. Getting there by train was wonderful. Flying home was a holiday air travel delays ordeal.
We took Amtrak's Adirondack to Montreal, spent a night there, then rode the Ocean round-trip, with two nights in Halifax. The trip was thoroughly enjoyable. VIA Rail Canada's crews and standards for on-board customer service are top-notch. The atmosphere was festive, with the dining and lounge cars decorated, most passengers either heading home or going to see family and friends. Our hotel in Montreal and Airbnb and rental car in Halifax all suited our needs perfectly at reasonable prices.
The worst part of the trip was the flight home. I faced extreme holiday air travel delays.
Our return train arrived in Montreal on the morning of Dec. 24, and I was planning on making it to Greensboro, NC, that night to see my family for Christmas. I had booked a one-way flight on Air Canada from Montreal to Raleigh-Durham, NC, connecting in Toronto. I was to leave Montreal at 5:30 p.m. and get to Raleigh-Durham at 10:30 p.m., where my father would pick me up for the hour's drive to Greensboro. The weather was bright and clear, though cold, as I headed to the Montreal airport, but I was hearing reports of a snowstorm moving into the Toronto area.
I thought I had learned from earlier holiday air travel delays. I got through security with nearly two hours to spare before my scheduled flight (which had been moved back a half hour from the original schedule), at which point I heard an announcement that anyone wishing to get an earlier flight to Toronto should see the customer service desk. Not wanting to take any chances with the snow, I went to the desk and they gave me a ticket for a flight that was already boarding. I boarded that flight, which used a wide-bodied A333, and it took off within 40 minutes. It was snowing hard when we landed in Toronto, causing a slight delay in the ground crew getting to our arrival gate, but we made it 2.5 hours before my scheduled connecting flight to Raleigh-Durham. All the airport monitors were showing most flights to the US, including mine, as on-time, so I went ahead through US customs preclearance, which was a breeze with Global Entry.
After clearing US customs, I settled down for dinner at a restaurant inside the US-bound terminal. As I was finishing my meal, my holiday air travel delays started. I received a text alert that my flight was canceled — even though the airport boards were still showing it and most other departing flights as on time.
I went to the nearby customer service desk and waited in line. When told that the next possible flight to Raleigh-Durham would be the next evening (Christmas Day), and being told that Air Canada does not cover hotel stays when flights are canceled due to weather, I decided to switch to a flight to Washington, DC's National Airport, which is where I live and from where I could ride with my aunt and uncle to Greensboro the next day. That flight was still showing as on-time, leaving in one hour, but as the hour wore on, the departure estimate kept getting pushed back.
By that point, I was exhausted and just ready to call it a day. So I went back to customer service and had them, after an extensive effort, put me on a 6 a.m. United Airlines flight the next morning connecting through Washington Dulles to Greensboro's airport — where flights are much fewer and considerably more expensive than at Raleigh-Durham.
This holiday air travel delays decision wound up being wise, as the Washington National flight did not depart until 12:30 a.m., leaving me only four hours of sleep at home. I decided I would eat the cost of a hotel that night, so used the Hotel Tonight app to book one of the three airport-adjacent Best Westerns as I waited in another long line to exit through Canadian customs (which I learned is required after you've reported to US customs, even though you haven't actually left Canada).
When I finally made it to the hotel a little after 11 p.m., I saw that my scheduled 6 a.m. flight the next morning was shown as being delayed 12 hours, by far missing my scheduled connection at Dulles. So I called Air Canada again and had them put me on a 12 noon nonstop to Raleigh-Durham. I got a full night's sleep, had a leisurely included breakfast at the hotel, and took the shuttle back to Pearson Airport to do the whole thing again. Made it back through security, US customs, and on a long walk to the gate with 45 minutes to spare. The flight wound up being delayed 90 minutes due to waiting for connecting passengers and de-icing (it was windy and in the teens with blowing snow, though clear), and I made it to Raleigh-Durham at 2:45 p.m. Christmas Day, having missed Christmas morning with my mother for the first time in my life.
Here are some lessons I learned the hard way from my holiday air travel delays:
What happened to "duty of care" at Air Canada?
According to their contracts of carriage, which I had plenty of time to peruse, every other Canadian airline covers passengers' hotel stays necessitated by the cancellation of the day's last flight to their destination, regardless of the cause. Only Air Canada refuses to cover passengers stranded because of weather (they would have covered me if the cancellation was due to mechanical or crew issues). I have written to the airline's complaint department urging a change in this policy.
Check your credit card benefits.
I did not purchase travel insurance for this trip, but I remembered something about travel protection benefits included with one of my credit cards. I looked into it, and my card does cover expenses incurred when a trip is interrupted due to weather, among other listed causes. I'm in the process of having my claim with the card issuer's insurance affiliate answered, which requires extensive documentation (including a statement from the air carrier declaring the reason for the flight delay or cancellation), but I'm glad to have this as a backup when airlines and other travel providers don't do what they should.
Wait to go through customs when possible when delays/cancellations may be coming.
When flying to the US from preclearance airports, don't report to US customs until closer to your flight departure. Knowing what I know now, I could have remained in the Canadian domestic terminal or outside security until closer to my scheduled departure time. That way, if I had found out my flight was canceled before going through customs, I would have avoided the delay of clearing Canadian customs to exit the US preclearance area. You don't want to wait too long, though, as long lines form at customs and the security checkpoint before it could cause you to miss your flight.
Be nice to airline representatives at the airport.
As upset as I was, I was careful to make clear that my problem was not with the individual Air Canada representatives at the airport or on the phone. They are the ones with the power to determine how you are re-accommodated when flights are canceled, and if you're nice to them, they'll do their best to help you. Airline representatives spent a collective three hours assisting me with this reservation, excluding time spent waiting on hold or in line. I had no problem with how any airport or telephone representative of Air Canada handled my issue; my problem is with the company's policies.