---
US Boeing 737 MAX planes grounded. President Trump issues executive order 
---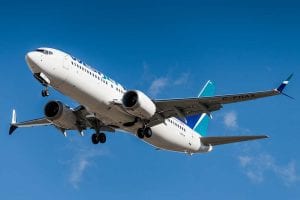 President Trump issued an executive order this afternoon that declared all Boeing 737 MAX planes grounded. His executive order reversed an earlier decision by the FAA. This followed the grounding of the aircraft by all other national aviation systems.
At noon, Canada suspended flights on Boeing Co.'s 737 Max, joining a global rush to ground the single-aisle jetliner after the second deadly crash in five months. This leaves the US FAA as the last defender of the Boeing airplane.
The safety notice restricts the 737 Max 8 and Max 9 from operating or overflying Canada, Transport Minister Marc Garneau told reporters Wednesday. The decision was based on new and inconclusive satellite data that suggests similarities between a fatal Ethiopian Airlines crash March 10 and a deadly October accident in Indonesia.
Disruptions of airline schedules will be minimal and both American and Southwest, with 24 and 34 planes respectively, will make every effort to accommodate passengers and substitute aircraft to minimize the passenger hassles. The grounded planes make up 4.5 percent of the Southwest livery and 2.4 percent of American Airlines planes.
---
Here is the Southwest statement regarding Boeing 737 MAX planes grounded:
Southwest Airlines is immediately complying with today's FAA requirement for all U.S. airlines to ground the Boeing 737 MAX 8. As a result, we have removed our 34 MAX 8 aircraft from scheduled service. Southwest operates a fleet of more than 750 Boeing 737s, and the 34 MAX 8 aircraft account for less than five percent of our daily flights.
We have been in constant contact with the FAA and Boeing since Ethiopian Airlines' accident last Sunday. While we remain confident in the MAX 8 after completing more than 88,000 flight hours accrued over 41,000 flights, we support the actions of the FAA and other regulatory agencies and governments across the globe that have asked for further review of the data – including information from the flight data recorder – related to the recent accident involving the MAX 8. The Safety of our Customers and Employees is our uncompromising priority, and today's action reflects the commitment to supporting the current investigations and regulatory concerns.
Our goal is to operate our schedule with every available aircraft in our fleet to meet our Customers' expectations during the busy spring travel season. Additionally, to support our Customers, Southwest is offering flexible rebooking policies. Any Customer booked on a cancelled MAX 8 flight can rebook on alternate flights without any additional fees or fare differences within 14 days of their original date of travel between the original city pairs. A Travel Advisory with additional information for Customers will be posted on Southwest.com.