The Wuhan virus has caused 56 deaths and 2,000 infections in China

---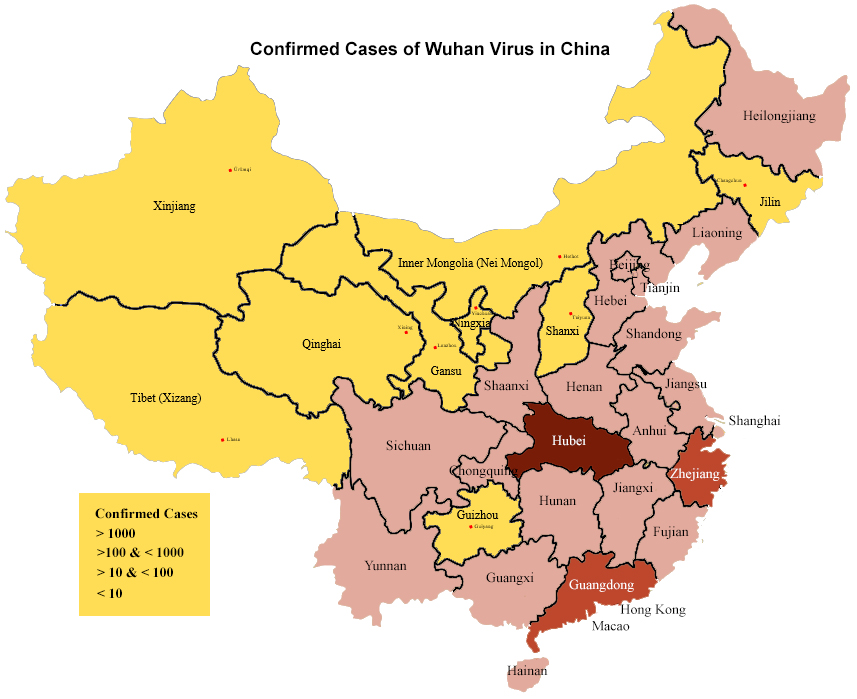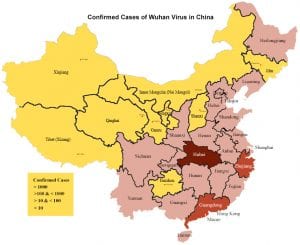 In mid-December, a mysterious respiratory illness first appeared in the Wuhan area of China. Wuhan is the capital and largest city in central China's Hubei Province. Its population is over 11 million. Since then, the disease, a coronavirus named 2019–nCoV or colloquially, the Wuhan virus, has caused 56 deaths in China, with more than 2,000 others infected and more than 10,000 more under observation.
In China, the 50 million people living in Hubei Province are essentially in "lockdown," as travel there is banned.
China canceled events and closed landmarks to prevent the spread of Wuhan
Across China, cancellations and closures have been made in an effort to halt the spread of the virus. All holiday celebrations have been canceled. The Forbidden City is closed until further notice, as is the Jiankou section of the Great Wall, the National Library and Shanghai Disneyland.
Publisher note: Due to the changing nature of this threat check the Centers for Disease Control Site for the latest information.
Five Wuhan infections have been found in Hong Kong and more than 100 there are under observation with symptoms of the virus. Hong Kong authorities declared a city-wide health emergency. Hong Kong closed its schools until at least mid-February. The city canceled Chinese New Year celebrations and has temporarily canceled train service between the city and the mainland. It's expected that the airport will be temporarily closed.
Infected people have been confirmed outside of China. The United States and France reported coronavirus. South Korea, Japan, Nepal, Thailand, Singapore, Vietnam, Taiwan, and Australia all have similar reports. The World Health Organization hasn't categorized Wuhan as a global health emergency at this time, but they are closely monitoring the virus.
ALSO ON TRAVELERS UNITED BLOG: How to know if you should buy travel insurance
The CDC issued a Level 3 warning and Level 2 Alert due to Wuhan
In the U.S., the Centers for Disease Control and Prevention (CDC) issued a "Level 3, Avoid Nonessential Travel" warning for travel to Hubei Province. The CDC also issued a Level 2 Alert to practice enhanced precautions if traveling anywhere in China.
In the U.S., airport screening of passengers from some parts of China has been initiated. The screenings are taking place at San Francisco, Los Angeles, New York's John F. Kennedy, Chicago O'Hare, and Hartsfield-Jackson Atlanta airports.
The Wuhan virus is a coronavirus. This large family of viruses causes illness ranging from the common cold to pneumonia. Typical signs of its infection include fever, cough and breathing difficulties. In more severe cases, the infection can cause severe acute respiratory syndrome, kidney failure, and death.
Coronaviruses are zoonotic, meaning they can be transmitted between animals and people. Initial cases of the virus were linked to a seafood and meat market in Wuhan. Chinese health officials have confirmed that the Wuhan virus is definitely transmitted human-to-human.
New details about when Wuhan is contagious mean airport screening of passengers from infected areas won't be particularly effective
In recent days, a troubling new characteristic has been detailed by China Health Minister, Ma Xiaowei. In addition to stating that the virus's ability to spread is getting stronger. Ma confirmed that the virus is capable of transmission even during its 1- to 14-day incubation period. That's prior to any observable symptoms of the virus. That makes Wuhan substantially different than the deadly SARS virus that killed more than 600 across China and Hong Kong in the past. SARS isn't contagious during incubation.
This newly determined characteristic compromises the US screening process. US airports currently depend upon observable symptoms to know if passengers on the planes arriving in the U.S. are infectious. This is a serious problem for the CDC.
READ ALSO: How to get the travel insurance you need
Travelers can take precautions to help them prevent contracting Wuhan
Travelers have a number of actions they can take to help themselves remain healthy while traveling in China or among people potentially infected by the Wuhan virus elsewhere.
Avoid travel to known areas of high infection rates:

Currently, there are three provinces in China with substantial numbers of people infected with Wuhan. Hubei province has more than 1,000 people infected, while Guangdong and Zhejiang provinces each have more than 100 confirmed cases. If at all possible, I'd suggest avoiding those areas of China. In fact, for now, leisure travelers, in particular, should consider postponing travel to China in view of Wuhan and the number of top landmarks currently closed.
Travelers should take precautions while traveling in areas with Wuhan virus infections and on planes and on other modes of public transportation.
If traveling in known areas of infection, take the following precautions as per the CDC:
Do not make contact with sick people.
Avoid animals (alive or dead) and products that come from animals such as uncooked meat.
Wash your hands often with soap and water for at least 20 seconds. If soap and water aren't available, use an alcohol-based hand sanitizer, but washing with soap and water is preferred.
Avoid touching your eyes, nose, and mouth with unwashed hands to avoid spreading the virus in case you've come in contact with it.
When traveling on planes on which some passengers might be infected:
In airplanes and other public transportation modes, wipe down the armrests and tray tables with alcohol-based sanitary wipes.
When using the lavatory, wash before touching your body and after using the lavatory. Don't directly touch the lavatory handle when exiting.
If you're traveling in an infected area, or come in contact with a person infected with the Wuhan virus, there's no guarantee that you won't become infected. However, the precautions listed can help prevent you from contracting the disease.
After many years working in corporate America as a chemical engineer, executive and eventually CFO of a multinational manufacturer, Ned founded a tech consulting company and later restarted NSL Photography, his photography business. Before entering the corporate world, Ned worked as a Public Health Engineer for the Philadelphia Department of Public Health. As a well known corporate, travel and wildlife photographer, Ned travels the world writing about travel and photography, as well as running photography workshops, seminars and photowalks. Visit Ned's Photography Blog and Galleries.