It's a different story that needs to be shared.
On September 11, 2001, terrorists attacked our country. We know that story all too well. We know the tragic stories of lives lost and the horror that those events caused. Those stories and the smoke coming from those towers will never be forgotten.
But, there's a much lesser known story from that day that shines a different light on those dark skies. Following the explosion into the trade towers, the United States closed American air space for the first time in our history. Thousands of airplanes and passengers that were already in the air were re-routed to land in Canadian air space.

One of the chosen airports was in Gander, Newfoundland – a tiny town of 10,000 people in the north east corner of Canada. In one day's time, over 6000 passengers from many re-routed aircrafts spilled into the small town. Many of the passengers had been on their airplanes for nearly 24 hours – they were confused, tired, hungry, frustrated, and scared by the senseless attack on their country.
But as they took their first steps off of their airplane and onto the ground in Gander, they were met with a spirit of a different kind. When the news in town broke that the United States had been attacked and thousands of passengers would be re-routed to Gander, the people of Gander dropped what they were doing and sprung into action. It's not a wealthy town by any stretch of the imagination, but without hesitation, people responded graciously.
The weary passengers were greeted with rows of food and drinks and volunteers eager to serve. Because of the size of the town, where would these travelers sleep? People from Gander opened their doors and took in these strangers – denying anything in return.
This past monday, I was honored to be one of the two Keynote Speakers at the Forging New Links Conference, a collection of over 400 educators, nonprofit leaders, and social servants across the state of Ohio who are passionate about meeting the needs of the world.
I shared the stage with Shirley Brooks-Jones. Shirley was one of the passengers that day who experienced the compassion, selflessness, and service that the people of Gander provided. She also was the one who was moved so much by their generous spirit that she decided the passengers on those air crafts needed to support the people in Gander in some way. She began collecting money from other passengers on that eventual flight back into the United States three days later, and to date, they have raised hundreds of thousands of dollars for college scholarships for the kids of Gander.
My task was to wrap up this beautiful story and connect the dots of how this fits with the "Step Back from the Baggage Claim" movement and the ways in which we all choose to move throughout the world every day.
Simply put, the tired passengers arriving that day experienced a spirit of a different kind. Around the crowded and hectic baggage claim in Newfoundland they experienced a "New Found Land" – a culture rooted in gratitude, compassion, and service to another human being.
As one of Gander's own said as they were asked why they sprung into action so quickly without seeking anything in return, "This is just what we do."
This is just how they choose to move throughout our world. Lets join them.
I'll meet you at the baggage claim.
– Jason Barger is an Author, Speaker, and creator of the Step Back from the Baggage Claim movement.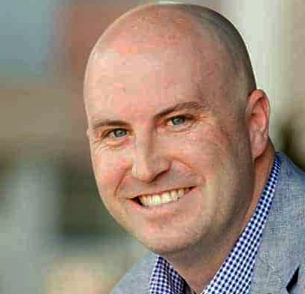 Jason Barger spent seven straight days flying 6,458 miles to seven different cities – without leaving the airports the entire time. He studied 10,000 minutes of observations at all four corners of the U.S. and reflected on how our airport experiences can teach us about our lives TODAY. The funny and inspiring stories remind us how to change our daily world in our personal lives, businesses, schools, and faith communities! Join the movement. All four editions of Step Back from the Baggage Claim are motivational books perfect for anyone looking to impact change in their life and work.