---
Augmented reality can now be used to tell if your carry-on bag is the right size to take aboard aircraft. Studies show that buses are still the most efficient inner city transportation choice. And, new Dutch train designs are creating unique travel options for travelers.
---
KLM uses augmented reality to make the gate wait fun
KLM is using virtual reality for both fun and more efficient operations. First, the airline has developed an augmented reality tool that will check carry-on baggage sizes.
By offering the AR hand baggage check in Messenger, KLM is again taking a next step in terms of digital service provision. With this service, passengers can see at a glance whether their hand baggage is of the correct size. By offering this service in Messenger, it's now available for every KLM passenger at the airport, en route or at home. We also continue to be pioneers of innovation in our passengers' best interests. — Pieter Groeneveld, Senior Vice President Digital Air France – KLM
Next, KLM has also created an entertainment element that can be used to enhance the travel experience.
KLM has introduced an augmented reality (AR) experience called Tune Into Your Travel, which promises to add a dash of whimsy and fun to the experience of waiting at the airport. Using Facebook's camera platform, Tune Into Your Travel allows travelers to frolic on a beach with a dancing starfish, explore the jungle with an intrepid turtle or roam the streets with a curious koala.

To launch the new feature, find KLM in Facebook Messenger. Tune Into Your Travel is located in the menu, under Fun Stuff. The departure lounge then becomes a playground for travelers and their animated pals!
The bus is still best
The introduction of metro systems, ride-sharing, high-occupancy lanes, bicycles, scooters, and the continuation of traditional taxis have created a balancing act that many city planners have never faced before. The question about just how to move the most people most efficiently around cities is more complex than ever. However, buses seem to be the best answer. And, new technologies that cross bus routes with ride-sharing are being tested.
Microtransit, or "Uber for public transit," as some advocates call it, is a new name for an old idea: "dial-a-ride," or demand-responsive transit. A van roams in a neighborhood. People can call a phone number and request a vehicle to take them where they want to go, or at least to a transit hub. The van might stop for others along the way, too. There are hundreds of these services in the United States. As a transit-planning consultant, I have been designing and redesigning dial-a-rides for 25 years.
…
In my work as a transit planner, I try to help transit boards think clearly about what balance they want to strike between ridership goals (putting service where lots of people will ride) and coverage goals (providing a little service to everyone). Many citizens demand coverage service and complain if it is removed, but the more coverage service is offered, the less ridership a municipality can expect under a fixed budget. Finding the right balance is a painful process of balancing competing demands, which is the job of elected officials or the board members they appoint.
The Netherlands' new train cars are nicer than your office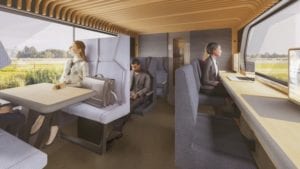 Next year hundreds of millions of passengers will ride the Netherlands trains. They will have the choice of the type of train seating they want if they are traveling on one of the soon-to-be-introduced trains.
There is no one type of passenger on trains, so why is there so often just one type of seat?

In response to this reality, NS hired Mecanoo architects and the furniture company Gispen to create a flexible concept train for the year 2025. It's a mix of several seating types that can be mixed or matched modularly, so that trains can adapt to customer needs. The design does away with the classic 2×2 model of seating — which organizes two seats of two on each side of the train — and replaces it with all sorts of options in the form of 12 new furniture modules.

The core seating unit is almost like a corner booth at a restaurant crossed with your standard office cubicle, featuring U-shaped seating and fold-out table tops. Don't want to sit with anyone else? There are individual seats, too, that run single file along one wall like a tiny passenger jet. Or you can capture that whole alone-together vibe by sitting at bar seats up against the window. Or, assuming you're as flexible as you were in high school, you can totally lounge out on long, bleacher-like seats instead.
Charlie Leocha is the President of Travelers United. He has been working in Washington, DC, for the past ten years with Congress, the Department of Transportation and industry stakeholders on travel issues. He was the consumer representative to the Advisory Committee for Aviation Consumer Protections appointed by the Secretary of Transportation from 2012 through 2018. He also served on the Consumer Advocacy Subcommittee of the Transportation Security Advisory Board.