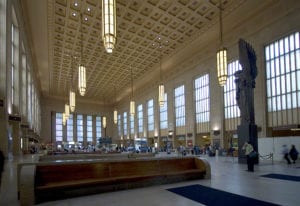 Last month, Amtrak's Office of Inspector General (IG) issued a report about safety and security issues at Philadelphia's 30th Street Station complex. The partly redacted 35 page report speaks about significant continued security weaknesses.
According to the report, during recent inspections, it was found that in the event that an emergency security/safety lock-down of 30th Street Station was necessary, it wasn't possible. At the station, an undisclosed number of its doors couldn't be locked because they either lacked locks or because the staff doesn't have keys for them.
Adding to the absurdity that the staff has no keys for many doors, the IG reported that the station's management isn't sure who has the keys that exist.
Philadelphia's 30th Street Station isn't an unimportant U.S. railroad station. It handles almost 4.5 million Amtrak passengers annually. When you add in New Jersey Transit and SEPTA regional rail passengers using the station, the number of passengers handled by 30th Street jumps to about 11 million passengers each year.
Adjacent to the station, Amtrak runs the 63-acre Penn Coach Yard. Here, the company services its trainsets and locomotives, as well as temporarily stores a significant number of out-of-service standard and Acela rolling stock and locomotives.
The 9/11 Commission noted in its final report, "Surface transportation systems such as railroads and mass transit remain hard to protect because they are so accessible and extensive." There are more than 140,000 miles of railroad track in the U.S. to protect.
Last August, soon after the vehicle attack in Spain, al-Qaeda called for broad attacks on railroads across Europe and the United States. There can be no doubt that U.S. railroad security is a must.
While no terror attacks have been launched against 30th Street Station, there is considerable crime taking place there and at the Penn Coach Yards. In 2017 there were 45 incidents of larceny or burglary. More troubling, considering potential terrorist attack vulnerability, were 147 trespassing incidents last year.
Other critical issues pointed out by the IG's report were:
• Amtrak employee identification badging is out of control:
The IG's report noted that more than 450 Amtrak employees and contractors across the U.S. have badge access to where cash is stored in the station, but only 26 of those actually work in the station. At least one former employee was able to keep their badge for five years after they left Amtrak before it was deactivated. It was used during that time for unauthorized access to Amtrak facilities.
Until mid-February, 2018, duplicate active badges were held by employees or contractors, meaning they could give working badge access to anyone without arousing suspicion, because they didn't have a badge themselves.
• Station and yard staff receive little or no safety/security training:
The IG's report stated that the lack of safety and security training of frontline Amtrak personnel is "inconsistent with leading practices."
• Penn Coach Yard fencing was insecure:
The yard wasn't secure because the perimeter fence was damaged, not all yard entrances were secured by gates, and there wasn't a regular patrol of the yard.
• The video surveillance system for the station and yard wasn't fully functional:
Of particular importance was that not all of the installed cameras in the system were operational. The report noted that more than a few cameras hadn't worked in months.
• Lack of yard security causing serious safety and security problems:
The report stated that vehicles were sometimes illegally parked near or even on the tracks, which posed serious security and safety risks. Yard employees told investigators that illegally parked vehicles have blocked fuel tanks and other equipment necessary for company operations.
When the IG's office observed parked vehicles in the yard in March, just 38 percent had valid parking permits and 20 percent were parked illegally with no permit of any kind. The IG concluded that,
"This lack of control over vehicles accessing and parking in the yard makes the company more vulnerable to significant physical security threats such as vehicle-borne explosive devices, particularly because the yard is adjacent to the station and other company facilities."
At 30th Street Station, Amtrak officials estimate they need $20 million to secure their facilities and train their employees. It appears that adequate funding is Amtrak's largest safety and security problem.
Congress has historically underfunded Amtrak, with many in Congress unrealistically calling for it to fully fund itself from operational revenue despite requiring it to service many routes which will never produce a profit. One only has to look at the example of railroad funding across the globe to understand that rail transportation subsidies are essential and good policy.
U.S. railroad passengers deserve and need to travel safely and securely.
It's highly unlikely that Philadelphia's problems are unique in the Amtrak national system. Amtrak isn't the only passenger railroad in the U.S. that needs more funding. It's time for Congress to adequately fund the nation's railroads.
Congress heavily funds air and highway transportation operations and infrastructure, well beyond the user fees charged, with large amounts of budgeted funding which can only be called subsidies. Congress needs to fund Amtrak and the other U.S. railroads similarly.
(Image: Amtrak's 30th Street Station, Philadelphia, Copyright © 2018 NSL Photography. All Rights Reserved.)
After many years working in corporate America as a chemical engineer, executive and eventually CFO of a multinational manufacturer, Ned founded a tech consulting company and later restarted NSL Photography, his photography business. Before entering the corporate world, Ned worked as a Public Health Engineer for the Philadelphia Department of Public Health. As a well known corporate, travel and wildlife photographer, Ned travels the world writing about travel and photography, as well as running photography workshops, seminars and photowalks. Visit Ned's Photography Blog and Galleries.