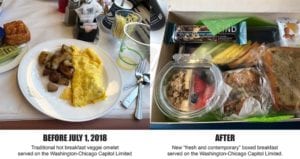 This weekend we take time to learn about changes at Amtrak that are making the railroad more airplane-like. We look at the phenomenon of frequent fliers willingly allowing their mileage to expire. And we find out about a Waze carpooling app that is trying to reach critical mass in major cities across the planet.
I tried the new Amtrak dining car — and it was immediately clear why so many people want to save the old one
Amtrak is being run by the ex-CEO of Delta Air Lines. And passengers can certainly see his effects on their meals once served in a restaurant-like Amtrak dining car. No longer is breakfast arriving on a plate with steaming eggs and coffee. It comes in cellophane packages. Snack service resembles what can be found on cut-rate airlines and passengers are not enjoying the experience.
Beginning in October, many overnight trains east of the Mississippi River bid adieu to the traditional white tablecloths and custom-cooked meals that hearkened to an earlier age of rail travel. They were replaced by what is essentially airline food: microwaved, individual-sized meals, heated from frozen storage.
…
The backlash was nearly instantaneous, with a petition to save the dining car's previous service racking up more than 13,000 signatures by the time of writing…for nearly $900 a ticket, I could see why some of my fellow passengers were disappointed.
How to preserve your expiring airline miles — no flying necessary
This article deals with frequent fliers who end up letting their earned miles go to waste. It seems to be a growing problem when we find out that more than half of all frequent flier members have allowed their earned miles to expire. Worse, they underestimate the value of the miles they are allowing to expire.
ALSO ON TRAVELERS UNITED: Big passengers present big problems for airlines
I have a tendency to let airline miles go to waste. Maybe it's forgetting to sign up for a loyalty program and not accruing them in the first place. Other times, it's letting miles earned on airlines I rarely fly expire. The other day, I got an email from British Airways saying that my Avios (their term for frequent-flier miles) were going to expire in 12 months because of inactivity. My initial thought? Oh, well. What's the worth of 3,401 points on an airline I never go with, anyway? Or those 457 BIG Points I lost from Air Asia?

Apparently, I'm not the only one letting valuable loyalty points linger until they vanish. According to a report by Bankrate.com, almost half of American adults who participate in airline and hotel rewards programs have let points or miles expire. We're underestimating the value of that loss, too.
Waze thinks it can get Americans carpooling again
A year ago, the navigation app Waze made a risky bet on carpooling, a type of commuting that has waned since its heyday in the 1970s. It launched Waze Carpool, a dedicated app that lets nonprofessional drivers offer rides to people who are traveling on a similar route for a nominal fee.
READ ALSO: Should rules be this complex for canceled flights?
In many cities, carpooling allows commuters to share the burden of driving. I have carpooled in Northern Virginia heading into DC to  visit congressional staffers or DOT workers. Of course, Waze is trying to make money while my forays into DC-Virginia carpools were free. Many others across the nation are doing the same thing. Now Waze Carpool is providing an app to help with the process and encourage carpoolers.
Waze says carpool customers completed more than 550,000 rides globally last September. (Waze Carpool is available in the US, Mexico, Brazil, and Israel.) The company predicts that it will cross 1 million monthly rides by early 2020. Carpool customers in the US collectively drove 25 million miles last year, which the company estimates helped reduce carbon emissions by 20 million pounds, thanks to combined rides. But Waze would not reveal the total number of people who are using the app, nor would it comment on its retention and turnover rates.
…
To be sure, convincing Americans to carpool is exceedingly difficult, especially in an era of cheap gas and more convenient services like Uber and Lyft. CityLab recently reported that Waze has been sending teams of employees to WeWork locations bearing tacos and other free goodies to persuade young professionals to download the app.
…
Fried, head of Waze Carpool, said that Waze Carpool is "laser-focused" on drivers and optimizing its shared ride service. That said, he hopes carpooling can become a mode on par with other popular transportation services. "If we can get people comfortable with leaving their cars at home, then you can take a multimodal trip that involves public transit, a Waze carpool, and a scooter on the other end, to make a seamless door to door experience that doesn't involve you driving a car," he said. "And that would be great."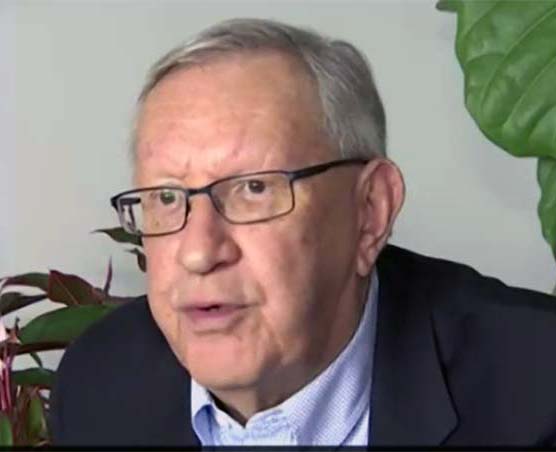 Charlie Leocha is the President of Travelers United. He has been working in Washington, DC, for the past 11 years with Congress, the Department of Transportation and industry stakeholders on travel issues. He was the first consumer representative to the Advisory Committee for Aviation Consumer Protections appointed by the Secretary of Transportation from 2012 through 2018.