---
An American-Qantas antitrust immunity harms consumers and competition
---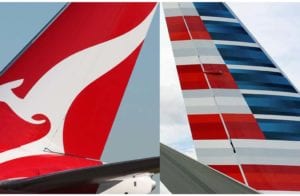 As the Department of Transportation begins deliberation on the second version of the American-Qantas request for antitrust immunity, DOT should note the glaring weakness in the joint application. It cuts competition on flights between the US and Australia — reducing competitors from two to one clearly reduces competition.
The application notes: "…the Proposed JBA will generate significant consumer benefits not achievable through other means and does not result in any lessening of competition."
By simple definition, when two airlines combine they reduce competition. The veracity and the remainder of the application should be treated with this fact and the glaring "does not result in any lessening of competition" non-sequitur.
Since making two airlines into one through the grant of antitrust immunity (ATI) and the formation of a joint venture is by definition the lessening of competition, Travelers United notes that this application does not meet the legal standard for approval and ATI. Our organization respectfully requests that the application not be granted.
In the airlines' "Summary of Application," they use many words like cooperation, seamless air travel, "metal-neutral," and passengers demand. All of these benefits can be achieved through booking between any two airlines with interline agreements. For decades the aviation industry worked this way with no ill effects for consumers.
ATI is an extreme measure, just like a full merger, that has strong effects on passengers. Just as consumers have been petitioning the DOT for almost a decade to allow full transparency of airline prices, including ancillary fees, this request from American and Qantas for full transparency between their operations should be denied.
As DOT has already officially announced in their decision to prevent passengers from easily learning the full price of travel when booking air travel "there is little benefit for consumers." In the same way, there is little benefit for airlines to know the exact cost and schedules of their competitors so that they can more easily do business with them.
Later in the ATI application, American and Qantas claim that the ATI "will provide passengers with seamlessly integrated, efficient service" and "will unlock hundreds of millions of dollars in annual consumer benefits." A prima-facia examination of airfares between different international destinations clearly shows that consumers do not benefit from ATI agreements. Virtually all prices for travel between similar international routes are identical. There are no consumer benefits when one airline alliance has an ATI award or does not have such a reward.
The bold promises of ATI metal-neutral benefits to consumers have not been borne out in practice. in light of the industry's experience, there is little to guarantee passenger benefits for this new ATI grant. These Travelers United comments follow the numbering and organization of the American-Qantas application.
1. Joint ventures under ATI offer no discernable passenger benefits. Only the airline partners benefit.
Even the airlines in this application confess:
There is good reason for this: other forms of coordination, such as traditional (non-JBA) codesharing, where an operating carrier allows another (marketing) carrier to sell seats on the operating carrier's flight, cannot produce the same integrative efficiencies as a metal-neutral joint business. This is because codeshare partners that do not pool revenue will always have an incentive to fill seats on flights that they operate, where they will receive the full fare instead of just the portion of a fare received from a codeshare. This limits codeshare partners' willingness to share capacity and fails to capture integrative efficiencies that are possible under metal neutrality; thus, passengers are presented with fewer and less optimal choices.
Application approval will reduce competition: In basic English, this means that without a market-distorting antitrust immunity agreement, individual airlines will choose to compete and maximize their corporate profits. That is the definition of the free market at work. That is the result of market forces that airlines in the US have been requesting for decades.
According to the very words of the JV application, ATI will eliminate competition and "operational concerns become the only meaningful limit on the extent of cooperation."
Benefits flow primarily to airlines. Every benefit that the airlines point to in this application can be applied to their operations and their bottom line and not to the benefits of passengers. Only competition provides consumers any respite to airlines' rapacious behavior in pricing, capacity discipline, customer service, space for passengers, and ancillary fees.
2. The current alliance alignment between American and Qantas can benefit passengers. However, it can already deal with additional passengers. If the airlines believe that there is sufficient passenger demand, new flights can be added under current interline agreements without ATI. Plus, the application does not even mention a financial benefit to passengers. It only discusses benefits to the partner airline profits.
All other proposed benefits — improved schedule coordination, new flights and
route options, greater capacity, increased investment in infrastructure, and other integrative efficiencies such as enhanced frequent flyer programs — can be arranged without the extreme anticompetitive use of ATI.
3. Competition will result in lower prices and better service for passengers. In the words of the application, this agreement is anticompetitive.
Without the deeper level of integration allowed by ATI, the Parties' incentives focus inward to maximize their own profits from their own aircraft to the detriment of the joint business and the traveling public.
Competition between Qantas and American will be bad for the joint venture, but good for the winning airline service and consumers. Plus, with today's information technology capabilities, the need for ATI and for alliance membership can be erased to promote even more competition.
From a passengers point of view, the American-Qantas application is clear.
If there is fierce competition, consumers will benefit. There are no instances where elimination of competition had a beneficial effect on airfare pricing and passenger protections.
All integrative efficiencies benefit the airlines and their bottom lines. The same efficiencies for passengers can be created through codesharing.
Every single claimed passenger benefit of this airline joint business application can be obtained by consumers through agreements between the two parties and the sharing of already public information. Being able to peek behind the corporate curtain of pricing and scheduling decisions only serves to lessen competition.
This joint ATI application should be denied based on the arguments within the petition itself.
The airline competition will be compromised.
Airline alliance codesharing attains most passenger benefits without a JV.
Better IT coordination can benefit passengers more than any JV.
Benefits of savings only apply to each airline's corporate profits.
Allowing coordinated scheduling and capacity discipline is anti-competition.
Travelers United respectfully requests that the application not be granted. This ATI application does not benefit the public interest.
Charlie Leocha is the President of Travelers United. He has been working in Washington, DC, for the past ten years with Congress, the Department of Transportation and industry stakeholders on travel issues. He was the consumer representative to the Advisory Committee for Aviation Consumer Protections appointed by the Secretary of Transportation from 2012 through 2018. He also served on the Consumer Advocacy Subcommittee of the Transportation Security Advisory Board.