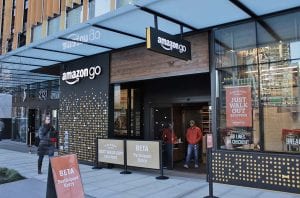 Today we examine changes in airport stores coming via Amazon Go's cashless stores. We look at Google's entry into the flight delay notification world and how it may affect its relationship with online travel agencies. And, finally, we look at some big changes coming in 2019 to the cruise line industry.
Amazon Go wants to add cash free stores at airports
Amazon Go is looking to expand its cashless store concept through airports. The demographic matches Amazon's ideal shopper. They are tech savvy, short on time, and have the latest technology. It should be a winner for Amazon Go.
At existing Amazon Go locations in Seattle, Chicago, and San Francisco, shoppers must scan their smartphones to enter the store; any subsequent purchases are automatically charged to their Amazon account via the Amazon Go app upon exiting.

Los Angeles International Airport and San Jose International Airport are among the US airports that reportedly have received queries from Amazon as the company looks to expand the checkout-free shopping concept, which is seen as particularly appealing to time-strapped travellers. Establishing locations at airports also are seen as an ideal way to grow awareness of the Amazon Go brand — a new direction for a company built on Internet sales.
Google is filling in the missing pieces with mobile flight-delay notifications
Google has long had a big reach into travel. They have been dancing along a fine line that allows them to keep advertising from the likes of Expedia and Booking.com and still allow them to compete with these big advertisers in getting customers. Now, Google is starting to offer a service that will let passengers know about delays in up-to-the-minute reports via text and their new Google Home products. Will this tip the scales in Google's favor and put the big online travel agencies out of business?
Nearly a year ago, Google began providing flight delay predictions, but in the next few weeks it plans on taking its services a step further: Google said its Google Assistant service will begin sending notifications on mobile when it predicts travelers' flights will be delayed — and to offer reasons for the foul-ups.

Google Assistant, which is available on Android and iOS phones, as well as Google Home, might send out a notification predicting that a traveler's flight will be subject to a 30-minute delay because the incoming flight is tardy, but the passenger should still be on time or not, wrote Google's Richard Holden, vice president of product management for travel, in a blog post.
10 ways cruises are changing
As the cruise industry continues to grow at a rapid pace, cruise lines are listening to their guests and are making changes. In addition to keeping their guests happy, these changes are also being made to attract first-time cruisers. Here are some cruise line changes happening today.
Looser Dress Codes: Dress codes have dramatically changed on cruises and are now much looser than they were just 5-8 years ago. On one cruise I was recently on, the dress code was called a "suggested dress code" and not mandatory. As dinner has become more casual, formal nights have begun to disappear.

Larger Cruise Ships: The mainstream cruise lines are announcing a record number of cruise ships that will be debuting over the next decade. There is one thing that most of these cruise ships have in common: most of them aren't going to be small ships.  The new normal is for 150,000+ gross ton ships with several cruise lines (Carnival Cruise Line, MSC Cruises, Royal Caribbean) announcing ships that will be 180,000-200,000 gross tons in size.

Cheaper/Faster Internet: Cruise lines are realizing that being connected is no longer an option, but a necessity for many travelers. When Royal Caribbean launched its VOOM internet on Quantum of the Seas, it began a new era of not only cheaper internet (unlimited for under $20 a day), but also offered download speeds that are more on par with land-based connections.
Charlie Leocha is the President of Travelers United. He has been working in Washington, DC, for the past ten years with Congress, the Department of Transportation and industry stakeholders on travel issues. He was the consumer representative to the Advisory Committee for Aviation Consumer Protections appointed by the Secretary of Transportation from 2012 through 2018. He also served on the Consumer Advocacy Subcommittee of the Transportation Security Advisory Board.