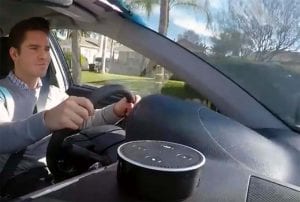 Alexa Echo Auto gets the ability to work in automobiles. That will expand its reach to in-auto functions like where to find the nearest gas station, etc. Airports are building without federal funds by using private investments. This is much better than raising taxes on passengers. Finally, watch out for taxable frequent flier miles. Banks are sending out 1099s for bonus miles.
How Amazon taught Alexa to hear in a noisy car
There have been some comedy routines featuring Amazon's Alexa Echo Auto in cars (as seen below), however, getting the Alexa Echo Auto system to work in a noisy environment that comes with a moving car was a big challenge. Today, Alexa can perform tens of thousands of searches and answer as many questions. A new GPS feature helps Alexa find gas stations and coffee houses along the way. Plus, now Alexa can stream audiobooks, radio programs, and music channels.
Amazon introduced the road-going, Alexa-equipped device in September of last year, and started shipping to some customers in January. Amazon is working with some automakers to build Alexa into new cars, but the $50 Auto works with tens of millions of older vehicles already on the road: All you need is a power source (either a USB port or cigarette lighter) and a way to tap into the car's speakers (Bluetooth or an aux cable).
…
Adding the Auto to a growing collection of Echo products makes sense. "There's no better place for voice than in the car," says Miriam Daniel, Amazon's head of Echo products. Your hands are supposed to be on the wheel, your eyes on the road. But when she and her team started developing the thing about 18 months ago, they discovered that there's no worse place than the car for making voice recognition actually work. "We thought the kitchen was the most challenging acoustic environment," Daniel says. But family chatter and humming refrigerators proved easy to overcome compared to wind, air conditioning, rain, the radio, and road noise. "The car was like a war zone."
Private money takes on bigger role in airport projects
Travelers United has been working hard to keep airport taxes from increasing. However, the airports and local chambers of commerce are addicted to passenger facility charges from the federal government and not too happy about taxing their own citizens for airport expansion and improvements.
This article shows that there are ways to develop funding from entities other than passenger fees. The real users are localities that benefit from the airports. Travelers United has been discussing this issue for the past decade in the halls of power in Washington. So far, we have been successful in holding back the localities' demands for more funding from the federal government. However the battle is getting more difficult.
As governments reduce spending on infrastructure, private companies are moving into airports big and small, paying for private terminals with new types of services and teaming up with local agencies to renovate existing terminals. The so-called public-private partnerships, or P3s, have created new possibilities for airports, which have struggled for years to find the money to improve terminals and accommodate an increase in passengers and cargo. An Airport Council International report released in 2017 estimated that airports would need almost $100 billion for capital projects over the next five years, but would only be able to finance about half that amount.
…
Airport financing works somewhat differently than investment in public works projects. A government covers construction and some maintenance costs, but airports are expected to be self-sufficient otherwise and to find other sources of revenue.

As many as a third of the airports in the United States were privately owned before the Great Depression and the infusion of New Deal spending, according to Deborah Douglas, the curator of science and technology at the M.I.T. Museum who has studied airports between the World Wars.
…
Short-term appropriations from Congress make it difficult for airport officials to plan long-term projects. Revenue from restaurants, stores, taxis, rental cars and parking is subject to less oversight. And when third parties maintain private terminals, airports and passengers reap benefits without incurring additional expense.
READ MORE: Should passengers pay higher airport fees?
Those credit card FF-Mile bonuses may be taxable
It is tax time. That means that some frequent fliers may be getting Form 1099 from their banks for bonus miles. These are coming from Chase, American Express and Discover. Back in 2014, a "…ruling by the United States Tax Court, which held that the value of an airline ticket bought with frequent flier miles that were received as a premium, in exchange for opening a bank account, must be included as income."
That has resulted in the receipt of these unwanted 1099s.
It's been unwelcome news. "It's one of those things where you don't really think ahead about the tax implications," said Rebecca Hawes, legislative counsel to the National Association of Enrolled Agents, a professional group for federally certified tax experts.

The forms known as 1099s are used to report various types of non-wage earnings, including miscellaneous income. In general, if a business pays you at least $600, it must report the payments to you — and to the Internal Revenue Service — using Form 1099.
…
Assigning a cash value to rewards points or frequent flier miles is a bit of a gray area, since the value of points can vary depending on how the cardholder redeems them. But a value of 1 cent per point is common, said Brian Riley, director of the credit advisory service at Mercator Advisory Group. At a penny a point, 500 points would equal $5.
MORE ON TRAVELERS UNITED: Should airlines own your frequent flier miles?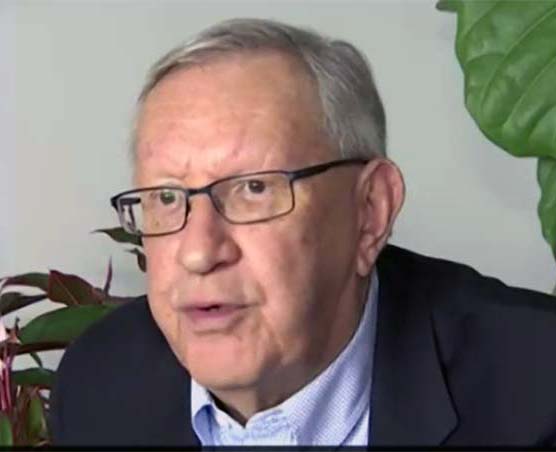 Charlie Leocha is the President of Travelers United. He has been working in Washington, DC, for the past 11 years with Congress, the Department of Transportation and industry stakeholders on travel issues. He was the first consumer representative to the Advisory Committee for Aviation Consumer Protections appointed by the Secretary of Transportation from 2012 through 2018.