---
We all know that leggings are against the airline dress code.
---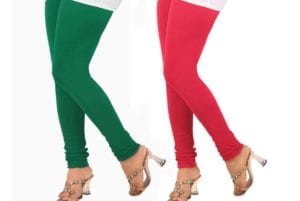 Like many stories that go viral, the United Airlines leggings story was not as simple as it first seemed. Yes, United denied boarding to girls who were either pre-teens or young teenagers because the girls were wearing leggings, not allowed by the United dress code. And yes, other passengers were upset.
As more details emerged, it turned out that the girls were children of employees, and employees have a United dress code. Fair enough.
The days of airlines being really generous with industry free or discounted tickets are largely gone, but it was a common inside joke for years that you could tell the travel agents or airline employees in first class because they were the only ones who actually dressed like they belonged there.
No one has posted pictures of the girls (just as well for their privacy), but my sense is that they looked relatively unremarkable by teenage standards, especially these days. Still, the United dress code rules are rules.
Where United really went off the rails (or rather, the runway) was not so much with the strict airport agent, but with their official United Twitter account, which responded that they have "the right to refuse transport for passengers who are barefoot or not properly clothed."
Seriously, how hard would it have been to tweet something like this? "The girls in question were traveling on employee passes which are subject to the United dress code. Nonetheless, we are looking into it and regret if other passengers were upset."
While one might think United would be nicer to their own employees and families, my experience says that's not the case. I was traveling on a regular ticket from Las Vegas last year and joined the standby list late for a delayed flight. To make a long story short, the two agents working the flight at the gate were not only frazzled but downright rude to me and a couple others waiting. One told me grumpily I should have checked my (small) bag. Later, I discovered from another employee who came to help that the first agents thought I was a "non-rev" (non-revenue, another term for pass rider) and she apologized.
Even now, as the airline tries to explain itself, the tweets don't come off warm and fuzzy. "The passengers this morning were United pass riders who were not in compliance with our dress code policy for company benefit travel."  (Got it, but they were KIDS.)
Later the United Twitter account finally took a softer tone about these United dress code scofflaws. "We regularly remind our employees that when they place a family member or friend on a flight for free as a standby passenger, they need to follow our dress code. To our regular customers, your leggings are welcome."  This, however, was a day later. The damage had been done.
(There's another issue. Why can't female employees and children wear leggings, especially in an era when even professional women wear leggings, and some brands — like Lululemon — cost over $100 a pair, while men and boys can wear shorts? That, however, is another post.)
This illustrates a problem in the social media age. It's difficult enough when an airport agent or flight attendant upsets a passenger, who then immediately takes to Facebook, Twitter, Instagram or whatever. However, in the past, when someone complained by letter or email, the response was private. It would take a disgruntled passenger going public with the response for it to reach a wide audience. But when employees can instantly tweet official messages, things can go viral in a real hurry, especially when those messages are tone-deaf.
I have tweeted @United myself on a handful of occasions when I'm really cranky, usually over a delay where the airline isn't forthcoming with details. I'm used to getting canned-sounding responses saying things like, "We're concerned about passenger safety," or, "We regret the delay." Sometimes, and most frustrating of all, I get the same WRONG information we're getting at the airport. (Nothing like being told your plane will leave in 10 minutes when they haven't started boarding yet.)
It's a thankless job. Employees in charge of an airline's twitter feed usually deal with unhappy passengers. Being limited to 140 characters when you're trying to respond to a problem doesn't tend to encourage careful, compassionate conversation. I also don't know how much training employees on Twitter get, or how much they get paid. However, I am guessing it's not that much of either, especially compared to high-priced public relations firms.
Just maybe, this last leggings episode might be a hint to United and other airlines. Pay your social media staff more, and train them more. Many marketers say, "All publicity is good." In this case, it is not true.
Janice Hough is a California-based travel agent a travel blogger and a part-time comedy writer. A frequent flier herself, she's been doing battle with airlines, hotels, and other travel companies for over three decades. Besides writing for Travelers United, Janice has a humor blog at Leftcoastsportsbabe.com (Warning, the political and sports humor therein does not represent the views of anyone but herself.)