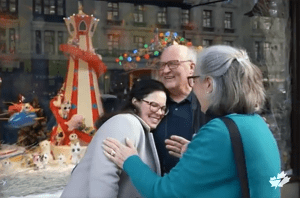 Christmas video humor can be brutal. When we find ourselves laughing out loud and cringing at the same time, the comedy routine has hit its stride. Everyone who has had a similar experience can relate to the comedy. Unfortunately, here in the US as we enter the holiday travel season, these comedy routines expose the holiday travels that many airline passengers experience.
And, sometimes airline Christmas video commercials can reveal a softer side of airlines, a side that most passengers do not see so often. However, we all like to believe fairy tails can come true.
The Airlines Recommit To F*cking Your Sh*t Up in this Christmas Video
This video originally was published back in 2016. The fact that the video is still so true is a testament of the airlines' failure to correct their baggage handling issues despite billions of dollars in baggage fees paid by passengers since 2008.
WestJet Christmas Video: Uniting Through Traditions
For years WestJet has been creating some of the best holiday commercials. Each relates a Christmas video miracle that allows loved ones to get together. Get ready for lots of happy tears.
Philippine Airlines Christmas Video 2018: "Regalo"
Travelers don't even have to understand a foreign language to understand these universal and planet-wide feelings.
SAS — Arrivals — Christmas Video
Sometimes travel changes us. Sometimes we can change the world. However, we always come home changed in some ways and we change the world as well. This video is a bit long, but the message is once again, universal.