African airlines' safety has been good for years and is improving. E-scooters are causing harm to pedestrians and riders on a daily basis as they expand services rapidly. Extreme weather reports are hurting ski and snowboard area sales.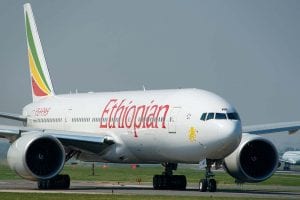 New study reveals high safety standards of African airlines
Many Americans don't seem to have a good feeling about African airline companies. However, statistically, African airlines are getting better year after year. Many of the fears of riding on African airlines' planes are disappearing.
Airlines Safety Performance In Africa 2018
"For a third consecutive year, airlines in Sub-Saharan Africa experienced zero jet hull losses and zero fatalities in jet operations. The all accident rate was 2.71, a significant improvement over the rate of 6.80 for the previous five years. Africa was the only region to see a decline in the all-accident rate compared to 2017. However, the region experienced 2 fatal turboprop accidents, neither of which involved a scheduled passenger flight."
…
Global standards such as the IATA Operational Safety Audit (IOSA) are making a difference. Counting all accidents, the performance of African airlines on the IOSA registry was more than twice as good as non-IOSA airlines in the region.
E-Scooter ride-share industry leaves injuries and angered cities in its path
A Consumer Reports investigation finds 1,500 e-scooter injuries across the country, and many hospitals still don't track them. As e-scooters are proliferating so are the injuries they are causing to riders, pedestrians, and bystanders. There are no laws about e-scooters riding on sidewalks or in bike lanes or in traffic. Plus, may users are riding with no head protection or any padding. It is a recipe for personal disaster.
Lime and Bird started deploying their fleets in various cities in late 2017. Some cities welcomed them as sorely needed transportation options, and the companies have found a receptive audience in pitching their business as a way to combat climate change by reducing society's reliance on gas-powered cars. In some cases, cities like Portland, Ore., and Baltimore launched e-scooter pilot programs to encourage their use.

But in other cities, the ride-share fleets arrived abruptly, and the rollout of the services was fraught with challenges. In some cases, basic questions were left unanswered, such as where scooters should be allowed to operate, and whether users should be required to wear helmets. Residents and officials in some cities also complained about scooters left on sidewalks, or anywhere out in public, for the next rider to rent.

Soon after the vehicles appeared, so did injuries linked to them: broken bones, fractures, blunt head trauma, even brain injuries.

"I don't think anybody in their wildest dreams just expected we were going to have hundreds of these devices deployed, essentially overnight and all over the place," said Julian Gold, mayor of Beverly Hills, Calif., who is also a medical doctor.
ALSO ON TRAVELERS UNITED: Understanding the real airline antitrust world
Over-hyped weather forecasts are bad for skiing
Back when I was skiing, a whopper of a snowstorm meant that many ski and snowboarding areas would be crowded. Today, it may mean the opposite as exaggerated conditions make it seem too cold to ski or ride. Sensationalized forecasts from news anchors who appear to hate winter and have zero idea how to dress for it are keeping an increasingly inert population inside.
Local stations, they say, seldom report the actual winter temperature any more, relying instead on more dramatic wind chill or "RealFeel" (a method developed by AccuWeather using factors including temperature, wind, humidity and others to describe how it feels outside) figures. Normal winter weather is treated like a crisis. The Vermont Ski Areas Association has begun hosting "weather summits" for meteorologists, lobbying them to frame winter weather positively. Modern clothing is capable of making people comfortable in the worst possible conditions, the resort operators point out, and when time outdoors in any season is being proved to have tremendous health benefits, the last thing we should be doing is discouraging anyone from going outside.

Last year, we all laughed when footage went viral of a Weather Channel reporter dramatically bracing himself against allegedly ferocious winds during Hurricane Florence as two dudes wearing shorts casually strolled by. That kind of over-dramatization is the norm in snow country, says Eric Friedman, marketing director at Vermont's Mad River Glenn. "Reporters are dressing up in parkas in the studio and telling people to go outside only as a last resort. It's like they've all been exiled to Vermont from some tropical paradise. Lots of them really seem to hate winter."

…wind chill doesn't take into account direct sunlight and is typically based on the highest forecasted wind gusts. Most of the time, he says, the wind only achieves its maximum gusts for a few minutes at a time. Plus, wind chill is only capable of estimating the effects of weather on bare skin. Apart from the occasional closing-day bash in the spring, almost no one is skiing around naked. Modern gear like Gore-Tex, goggles, and helmets are well equipped to brush off cold and wind.
Charlie Leocha is the President of Travelers United. He has been working in Washington, DC, for the past ten years with Congress, the Department of Transportation and industry stakeholders on travel issues. He was the consumer representative to the Advisory Committee for Aviation Consumer Protections appointed by the Secretary of Transportation from 2012 through 2018. He also served on the Consumer Advocacy Subcommittee of the Transportation Security Advisory Board.