---
Local American foods define our country
---
A while back I wrote a piece about foods named for destinations. It was a list of foods like Anjou pears, Boston cream pies, Brussels sprouts, Danish pastry, Swiss cheese, and Welsh Rarebit. Our country has local American foods that define us as well.
This is about some of the great local American foods that are associated with various regions, states, and cities. For me, dining on the local fare is one of the greatest pleasures possible. Please add more of your own to these delicacies.
New England Clam Chowdah
OK. I lived in New England for almost two decades and I have to admit that good clam "chowdah" is wonderful. I love the creamy New England version. Heaven forbid if anyone tries to serve any of that tomato-based Manhattan stuff they call clam chowder.
Maine Lobster
Nothing is better. Well, maybe any North Atlantic lobster. The best place to eat lobster is at a lobster pound right on the pier beside the Atlantic ocean on a sunny day. Try Chauncy Creek in Kittery Point,  Maine. Can't be beat.
---
READ ALSO:
Reliving my great travel memories that will be remembered forever
Why we take joy in unexplained travel relaxation
---
New Hampshire/Vermont/NY Maple Syrup
A true delicacy. Pure. Tasty. Totally natural. Rare. Expensive. I have to admit to enjoying any maple syrup, even the syrup from Quebec, where I normally buy most of mine since my niece and nephew go to school in Montreal. Go for the best stuff — they call it clear in Canada. You can drink it like a fine liquor.
Philly Cheese Steak
Locals will all swear by their favorite cheesesteak joint. This is a true Philadelphia treat. If it isn't made with top-notch Cheese-Wiz and dripping with grease, it doesn't meet the test for the best.
Senate Bean Soup
I still remember as a kid having lunch in the Senate dining room and enjoying Senate Bean Soup. It is still a tradition served at the Senate cafeteria in the basement of the Senate office buildings and in the more formal dining rooms.
Miami Stone Crabs
Normally, I stay away from the really expensive meals, but for stone crabs I can't resist. Plus, when dining with friends at a good stone crab joint like the world-famous Joe's on Miami Beach, a group of eight can get away with 5 orders and most of the time have leftovers. That makes everything affordable. Don't try to get in at the height of dining time, but if you come just before the lunch closing time, there are always tables. The crabs aren't killed to be eaten, only their claws are removed. Then, they are returned to the ocean where they regenerate a new claw only to be harvested again in the future.
Dungeness Crab
These crabs are actually found all along the U.S. Pacific northwest coastline and up into Canada and Alaska. They are named for a town on the Strait of Juan de Fuca hard against the US/Canadian border.
New Mexico Chile Cheeseburger
This is a category that will stir passions within the state. Everyone has their favorite chile cheeseburger. For years, I would stop at the Owl Bar in San Antonio, N.M., (just south of Soccoro) on my way to Ruidoso to ski and have what is purported to be the best green chile cheeseburger in the state. (They were supposedly invented here.) The Buckhorn on the other side of town is also famous for its burgers. Since then I have had a chance to test different chile cheeseburgers at the Mine Shaft Tavern in Madrid on the back road from Albuquerque to Santa Fe and sure enjoyed it, especially with a background of country music on a Sunday afternoon. Bottom line: When in New Mexico, try one.
Chicago Deep-dish Pizza
Now, there is pizza and there is pizza. I grew up in Naples, Italy, where the pizza comes out of the open-fire brick oven with the tomatoes, mozzarella and leaf of basil swimming in about an eighth of in inch of sizzling olive oil sitting on a thin layer of crust surrounded by a fluffy inch-high ring of crust. Nobody picks up real Neapolitan pizza with their hands — knife and fork are the way to eat these creations. There is New York Pizza, New Haven Pizza, Boston Pizza and Chicago Deep-dish Pizza.
Chicago deep-dish pizza is a creation of its own. Some pizza joints make it with an open face, others make it with a pie crust over the top, which is the topped by pizza sauce and cheese. But, it is all deep. That doesn't mean that this pizza has a thick crust, it doesn't. The crust is thin, just like a normal pie crust, and instead of filling it with apples or blueberries, the crust is filled with cheese, sausage, pepperoni, onions, peppers, and whatever else you want. It's a calorie, carb, and salt bomb — yummy.
The best? It's a pizza jungle. When you eat pizza in Chicago, you'll know you're not in Boston, New Haven or New York, or Naples. Enjoy.
New Orleans Jambalaya
This concoction is the closest thing we have in the US to paella. First cook the meat or sausage that will be included, then pour in water and rice and bring it to a boil, and at the end add seafood, if you want. It is yummy, especially when spiced up a bit with some Cajun imagination.
One of the best things about jambalaya is that no two pots are the same.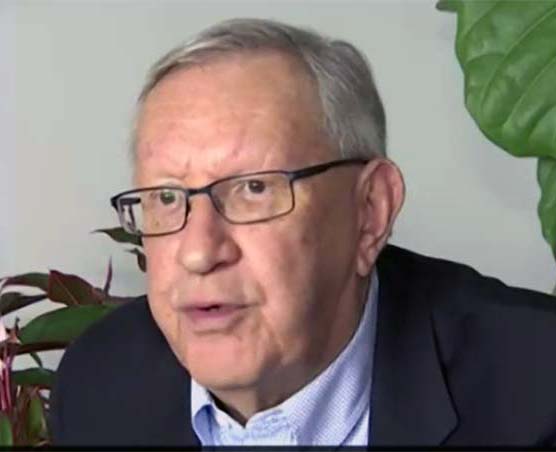 Charlie Leocha is the President of Travelers United. He has been working in Washington, DC, for the past 11 years with Congress, the Department of Transportation and industry stakeholders on travel issues. He was the first consumer representative to the Advisory Committee for Aviation Consumer Protections appointed by the Secretary of Transportation from 2012 through 2018.