---
Three travel issues to think about — passports, bike sharing, and snowshoes.
---
This week we muse about the colors of passports and why they are that way. We look at the rise of bike sharing systems. And, finally, we finish with a fascinating video about the art of snowshoes. Thank heavens we don't need them every day.
---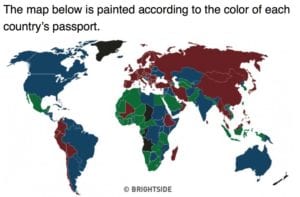 There are only four passport colors in the world
Red, Blue, Green, and Black are the colors of all passports in the world. Current communist countries mostly use red, democracies use blue, most Muslim countries are green, and a handful of African countries are black.
The blue cover symbolizes the "new world." 15 Caribbean countries have blue passports. Within the block of South American countries the blue passport cover symbolizes the connection with Mercosur — a trade union. This includes Brazil, Argentina, and Paraguay. Venezuela is the exception here: it also belongs to the union, but its citizens have red passports. The passports of US citizens were changed to blue only in 1976.
Bike sharing systems are popping up all over the place
Bike sharing seems to have found its critical mass, at least in some of the leading cities in the country. Picking up bikes in one place and dropping them off in another seems like an easy concept. However, it took years before bicycles stopped disappearing. Finally, bike share programs are beginning to take off and see regular usage in the US.
The National Association of City Transportation Officials (NACTO) has just released the first comprehensive snapshot of bike-share growth in the US. What it shows is that, from 2010 to 2016, bike sharing has gone from virtually nothing to … well, something. It is still a marginal means of transportation in the grand scheme of things, but if current growth rates hold, that won't be true for long.

Let's look at some of the top-line numbers.

There were 88 million total bike-share trips taken in the US between 2010 and 2016. The annual number of trips reached 28 million in 2016. (By way of comparison, there were 10.75 billion trips on public transportation in 2016.) The number of bikes has grown to 42,000.
The Snowshoe Storyteller
The unsung heroes of the footwear world? Both a tool and a beautiful work of craftsmanship, traditional snowshoes are what's made human habitation across the winter hinterlands possible. Over the years, Bill Mackowski has collected over 200 pairs of snowshoes and the incredible stories and history that go with them. To assemble what is possibly the world's largest collection, he has traveled to far-flung Inuit and Cree villages, from Newfoundland to the Yukon. Along the way, Mackowski has also made it a point to learn and preserve traditional snowshoe-making techniques that date back thousands of years. Enter his workshop in Milford, Maine, and you'll see a true tribute and museum to the craft, filled with intricate and beautiful snowshoes he has collected and created over the years.