The traffic-clogged streets, towering skyscrapers and dazzling lighted billboards could be in Times Square, New York – but they aren't. I'm walking through Japan down an ancient trail that snakes through dense woods, over mountain passes and past rushing waterfalls.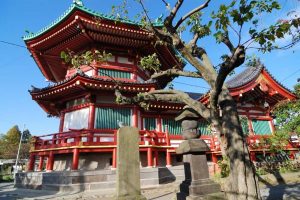 A big surprise for many visitors from the U.S. to Japan is how many things remind them of home. At the same time, there are dramatic differences in the history, culture and other characteristics of the country. That dichotomy — foreign and familiar, old and new — is one of the unexpected pleasures of a visit to that intriguing destination.
My trip with the Walk Japan tour company was focused upon Kyoto, Tokyo and an ancient trail that was used during Japan's feudal period by shoguns (military rulers), samurai (military officers) and other high-ranking officials to travel between the two cities. Once, walking through Japan was the main mode of transportation.
My walking through Japan trip began in Kyoto, which is rich in tradition and important sites. With some 1,600 Buddhist temples, 400 Shinto shrines, magnificent palaces and more, the welcome challenge for visitors is how to experience and enjoy as much as possible in a limited time.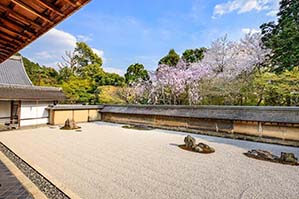 The Ryoanji Temple is famous for its lovely rock garden, which is believed to have been created around 1500. Laid out for Zen meditation to be viewed from a platform, it consists of a field of immaculately manicured white gravel raked into a wave-like design surrounding rock islands.
One of the most popular buildings in Japan is the Rokuon-ji (Temple of the Golden Pavilion), a Buddhist hall that was burned and then reconstructed. The building is in the architectural style of aristocratic mansions during the 8th to 12th centuries, and its most distinctive feature is the gold leaf which envelops the upper two levels of the structure.
If Kyoto continues to wear its history in plain sight, the past is more hidden in Japan's capital. Tokyo today little resembles the modest fishing village of Edo that it was before it became the country's seat of power.
A good place to begin a city tour is sprawling Ueno Park, which is home to temples, pagodas and shrines, along with a number of major museums. My Walk Japan Tokyo guide displayed a scene in a wood block print made in 1631 which has changed little since then.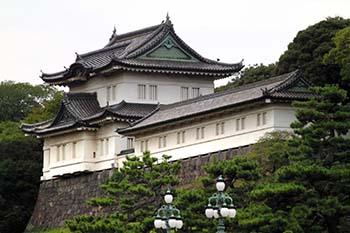 Any visit to Tokyo also should include the Edo Castle, which was built in 1457 and served as the residence of the shoguns. The present Imperial Palace, which is the primary residence of the emperor of Japan, sits on the base of the former castle, and the original main gate, along with walls, turrets and moats survive.
A more in-depth plunge into Japan's feudal past is provided at the Edo-Tokyo Museum, where exhibits demonstrate how the small village evolved into the vast metropolis of today. Among exhibits are intricate scale models realistically representing buildings and towns from the 17th through 20th centuries. Cultural icons include a life-size reconstruction of a kabuki theater, where that classical dance-drama form of entertainment has been popular since the early 17th century.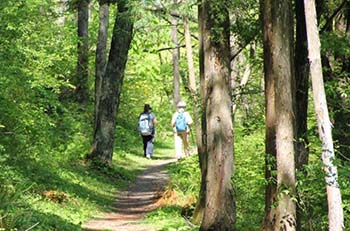 No matter how magnificent the temples and shrines that grace Kyoto, and how beautiful architectural gems from the Edo period hidden beneath the hustle and modern veneer of Tokyo, it was five days walking through Japan along a section of an ancient trail between those cities which for me provided the most meaningful immersion in the history, heart and soul of the country.
Laid out in the 8th century, that 310-mile path was trod by shoguns, samurai and other nobles and the underlings who comprised their entourage. The support staff tended to the horses, prepared meals and took care of the countless other chores that provided the comforts and luxuries to which those who occupied the upper levels of society were accustomed.
As I was walking through Japan, I traversed the Kiso Road section of the historic route. The sojourn began by following a short stretch of the original flat paving rocks that were laid down hundreds of years ago, and passed by one of the earliest stone mile markers.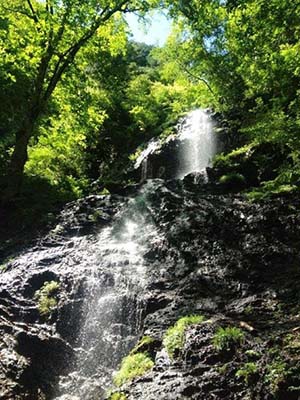 The route follows valleys past rushing waterfalls, winds through dense forests and crosses over mountain passes. We passed Shinto shrines, Buddhist temples and unadorned rock structures that paid homage to emperors and other human deities, and spiritual beings. Here and there stood a lonely farmhouse, centuries-old mill and wooden waterwheel powered by the rushing streams that cascade down many hillsides. Houses in tiny farm villages are surrounded by rice paddies, and an occasional grove of bamboo reaches toward the sky.
Come nightfall, our band of hikers followed in the footsteps — literally — of those who proceeded us along the trail centuries ago. "Post towns" were spaced a day's travel apart to provide food and overnight accommodations to those travelers. Some of the traditional wooden buildings have been lovingly restored and continue to offer the same services they did in the past.
Three of the best-preserved post towns — Magome, Tsumago and Narai — provide an in-depth feel for what early travelers experienced. The family-run guesthouses introduced us to customs and cultural touches of Japan discovered when walking through Japan.
It doesn't take long to learn the rules. Upon entering the modest structure, remove your shoes and replace them with the ubiquitous slippers stacked on shelves near the entrance. Be prepared to sleep on a fluffy but surprisingly comfortable futon on the floor.
Don't expect to order dinner from a menu, but do know that among numerous dishes placed before you are sure to be at least several as pleasing to your taste buds as they are to the eye.
This experience was very different from the architectural treasures of Kyoto and the hustle and bustle in Tokyo, beneath which its past hides in plain sight. This combination introduces visitors to the very essence of Japan in a way that leaves a very lasting impression.

If you go
I traveled with aptly named Walk Japan, which has conducted tours in that country since 1992.  The focus on using various kinds of public transportation, staying at local inns and dining at family-run restaurants brings guests into repeated close contact with Japanese people from various walks of life. The tours range from city sightseeing to trail walking to more strenuous experiences. For more information, log onto walkjapan.com.
Photos (from top to bottom)
17th-century Buddhist temple, Ueno Park, Tokyo, by Yuryz/Dreamstime.com
Ryoanji Temple Zen Garden, Kyoto, by Sean Pavone/Dreamstime.com
Imperial Palace, Tokyo, by Chee-onn Leong/Dreamstime.com
Nakasendo-Way by Victor Block
Nakasendo-Way-waterfall by Victor Block
Downtown Tokyo lights by Luciano Mortula/Dreamstime.com
[adrotate group="1″]